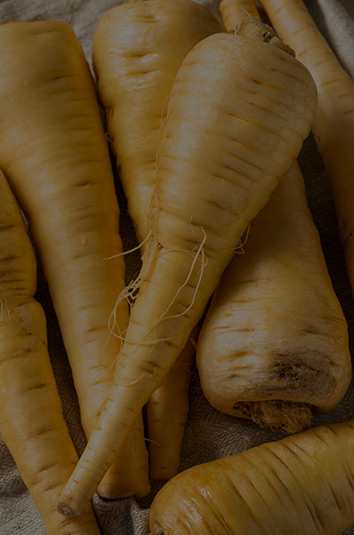 Choose parsnips that are clean, firm and have smooth white skin. Parsnip tops should be well trimmed. Avoid misshapen parsnips or those that exhibit growth cracks, bruises, cuts, or discoloration.
Carrot & Parsnip Latkes Recipe
-2 medium carrots, peeled
-5 small parsnips (about 1 pound), peeled
-1/4 cup all-purpose flour
-2 large eggs, beaten
-1 teaspoon minced chives or scallion
-1 teaspoon chopped parsley
-Salt and freshly ground pepper
-Peanut oil for frying
Grate the carrots and parsnips coarsely. Toss with the flour. Add the eggs, chives, parsley, and salt and pepper to taste. Mix until evenly moistened.
Heat 1/4 of peanut oil in a saute pan until it is barely smoking. Drop in the batter by tablespoons and flatten. Fry over medium heat until brown on both sides.
Yield: 16 to 18 two-inch pancakes
Kale and Parsnips Recipe
-1 cup onions, halved and sliced
-1 cup parsnips, halved and sliced
-1 Tbsp corn oil
-1 cup water
-2 Tbsp ginger, minced
-1 quart kale, veins removed and cut into bite-sized pieces
Saute the onions and parsnips in oil for about 5 minutes, stirring occasionally to prevent burning. Add the water and ginger. Cover and simmer for 4 to 5 minutes. Add the kale and continue cooking 4 to 5 minutes longer. Stir occasionally but keep the saucepan covered otherwise. Serve hot.
Yield: 4 servings