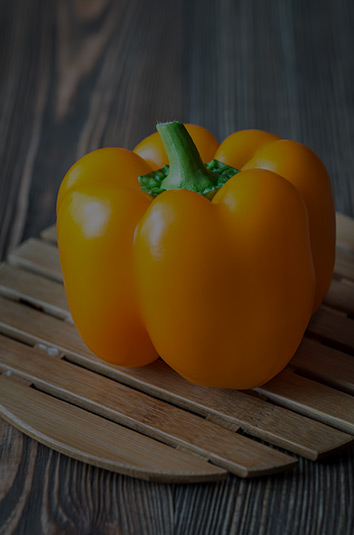 Bell peppers are generally sold by color. All sweet peppers are green at the immature stat. As the peppers mature, they turn color. The most predominant color for a mature pepper is red. All sweet peppers are characterized by their bright skin color and fairly sweet flavor.
Stuffed Peppers
-3-1/4 lbs. green, red, or yellow bell peppers, medium
-4 lbs. ground chuck
-2 cups onion, chopped
-1-1/3 cups celery, chopped
-4 cloves garlic, minced
-2 lbs. can tomatoes
-2-2/3 cups cooked rice
-1/2 lb. sliced pimento, drained
-1 tsp. pepper
-2-3/4 lbs. canned tomato soup
-2 tsp. basil
-1 cup sharp cheddar cheese, shredded
Cut off tops of peppers. Remove seeds and membrane; set aside. In 1 quart casserole, crumble beef. Add onion, celery, and garlic. Microwave on HIGH (10) 5-7 minutes; stir after 3 minutes. Drain well. Combine meat mixture, tomatoes, rice, pimento and pepper. Fill peppers with meat mixture. Place peppers in 2-quart casserole. Combine soup and basil; pour over peppers. Cover. Bake at 375F for 25 minutes. Sprinkle cheese over peppers. Let stand, covered, 5 minutes.
Spicy Chesapeake Chicken Rollup
-1 tsp. olive oil
-1 Tbs. unsalted butter
-2 skinless, boneless chicken breasts, cut into cubes
-1 clove garlic chopped
-1/2 cup green pepper, chopped
-2 Tbs. Spicy Seafood Sauce
-1 tube (10 oz.) pizza crust
-1/4 cup cheddar cheese, grated
-1/4 cup mozzarella cheese, grated
Preheat oven to 425F.in a saucepan over medium heat, heat oil and butter together. Add the garlic and chicken. Cook, stirring occasionally, until the meat turns white on all sides. Add the onion and green pepper, and cook for an additional 3 to 4 minutes. Remove from heat, and add Spicy Seafood Sauce. Let stand for 5 minutes. Carefully open the pizza dough. Press out dough to a 15×10 inch rectangle. Spread the chicken mixture onto the dough, and top with grated cheddar and Mozzarella cheese. Roll the dough into a loaf, and bake on a greased baking sheet for 10 to 12 minutes at 425F. Let cool for 10 to 15 minutes; slice in half or 1-inch slices.
Red Pepper Soup
-3/4 cup olive oil
-1 cup chopped onions
-4 tsp fennel seeds
-1 tsp thyme
-2 bay leaves
-2 tsp chopped garlic
-4 tsp basil
-4 red bell peppers, chopped
-1 green bell pepper, chopped
-1 jalapeno pepper, finely chopped
-2/3 cup flour
-1/2 gal (8 cups) chicken broth
-2 tsp chicken base/chicken bouillon cubes
-2 chopped tomatoes
-1/3 cup tomato paste
-1 tsp sugar
-1 cup heavy cream
-Salt & Pepper
Heat olive oil and then add onions, fennel seeds, thyme, bay leaves, garlic, basil, red peppers, green peppers, and jalapeno. Saute until wilted, about 10 minutes. Add flour and cook for 10 minutes. Do not burn. Add chicken broth and chicken base, whisk until smooth. Add tomatoes and tomato paste. Simmer 30 minutes. Add sugar and cream. Simmer for 5 minutes and serve.
Caribbean Pepper Salad
-5 Bell Peppers (if possible buy 1 red, 1 orange, 1 green, 1 purple, & 1 yellow)
-1 medium to large Red Onion, cut into thin strips
-2 Hungarian Wax Peppers
-2 Hot Peppers, minced OR substitute
-4 specialty peppers with 2 Jalapeno Peppers, minced
-4 small firm Plum Tomatoes, sliced 1/8 to 3/16″ rounds
-2 Tbsp. Tarragon Vinegar or Balsamic Vinegar
-1 Tbsp. Dijon Mustard
-2 tsp. Sugar or Honey
-1 tsp. Salt
-1/2 tsp. Iguana Red Pepper Sauce
-1 Tbsp. Pirates Blend Caribbean Condiment
-Fresh chopped Cilantro and/or parsley to taste
-Ground Black Pepper to taste
-4 Tbsp. Olive Oil
-2 Tbsp. Sesame oil
-2 tsp. grated Lime Zest (the peel & pulp if you like)
Cut bell peppers into julienne strips. Seed all hot peppers before dicing & mincing and be careful not to touch your eyes or other mucous membranes when handling any hot peppers! In a large-size bowl, toss all peppers, onion, tomato and chopped herbs. To make dressing, use shaker jar or whip in medium bowl vinegar, mustard, sugar or honey, salt, Iguana Red Pepper Sauce, Pirates Blend Caribbean Condiment, oils, and black pepper. Shake or whip into a frenzy. Toss vegetables with dressing. Add lime zest. Toss again for good fortune. Cover and Chill before serving.
Cavatappi with Proscuitto, Tomatoes and Red and Green Peppers
-1 medium yellow onion (chopped fine)
-1 red bell pepper cut in squares
-2 tablespoons of butter
-3 tablespoons olive oil
-1 green bell pepper cut in squares
-1 cups canned Italian tomatoes
-1 pinch of red pepper flakes
-2 garlic cloves
-1/4 cup parmesan cheese parsley
-1/4 cup pecorino cheese
-4 slices proscuitto cut into strips
-1 pinch herbs de provence
Saute green and red peppers, onions and garlic in oil and butter until light brown. Add the strips of proscuitto and saute for 1 minute. Add the tomatoes, hot pepper, salt and herbs, cook over medium heat, uncovered for about 20 minutes. Boil the cavatappi in 4 quarts of boiling water salted with kosher salt. Transfer the cooked cavatappi to a warm serving bowl, add the sauce and mix, add the cheeses and mix and add plenty of chopped parsley.
Peppers with Pasta
-4 cleaned & chopped Peppers, preferably 2 red and 2 yellow
-5 oz Spaghetti
-Butter
-5 oz smoked bacon
-2 tomatoes, quartered
-2 oz grated cheese, sharp
Cook the spaghetti and plenty of salted boiling water for 10 minutes, drain and rinse under warm water. Dice and fry the bacon in a little butter. Add the peppers and simmer for 10 minutes. At the last minute, add tomatoes, salt and pepper to taste and mix with the warm pasta, sprinkle with grated cheese.
Weespachoes
-1 whole medium size onion diced
-1/2 fresh sweet green pepper
-1/2 fresh sweet red pepper
-6 whole, medium size white mushrooms, sliced thin
-1/4 teaspoon Fresh chopped parsley
-1 pinch, garlic powder black ground pepper, to your taste. (salt is forbidden)
-1 tablespoon, pure virgin oil
Heat the olive oil in a large skillet over medium heat. Add the vegetables and "saute" until heated through the spices gradually during the cooking and mix well with the vegetables. Keep on "saute" until barely 8-10 minutes. Make sure the vegetables do not turn mushy. Serve with eggs, hash-browns and a link of breakfast sausage.
Black Bean Salsa
-1 Tbsp Hot Sauce
-15 ounce can of black bread drained and rinsed
-1 tsp cumin
-1 tsp rice vinegar (or white vinegar)
-1/3 cup onion, finely chopped
-1/3 cup green pepper, finely diced
-1/3 cup red pepper, finely diced
-1/3 cup yellow pepper, finely diced
-1/4 cup fresh cilantro, chopped
Combine and serve cold.
Roasted Red Pepper Dip
-2 medium red bell peppers
-1/2 tsp sugar
-1/4 tsp salt
-4 oz. light cream cheese softened
-1/4 Cup low fat plain yogurt or sour cream
-1 or 2 Tablespoons Hot Sauce
Cut one of the red peppers in half lengthwise. Remove the seeds and fibers. Place halves, cut side down in a shallow dish in the microwave. Cover with plastic wrap. Microwave on high 6-10 minutes or until fork tender, drain. Remove small slice from top of the remaining pepper. Carefully remove seeds and fibers. In food processor, combine cooked pepper with sugar, salt, cream cheese, yogurt and hot sauce. Blend until smooth. Refrigerate before serving. Spoon dip mixture into cut out red pepper and serve with fresh vegetables, chips, or crackers.