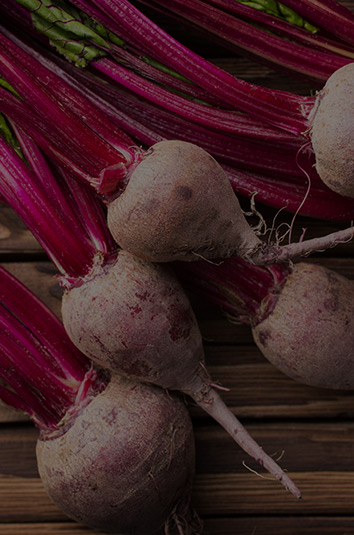 Choose small or medium-sized beets whose roots are firm, smooth-skinned and deep in color. Smaller, younger beets may be so tender that peeling won't be needed after they are cooked.
Avoid beets that have spots, bruises or soft, wet areas, all of which indicate spoilage. Shriveled or flabby should also be avoided as these are signs that the roots are aged, tough and fibrous. While the quality of the greens does not reflect that of the roots, if you are going to consume this very nutritious part of the plant, look for greens that appear fresh, tender, and have a lively green color.
Beet Jelly
-4 cups beet juice
-1/2 cup lemon juice
-1 pkg. Sure Jello Pectin
-1-3 oz. pkg. Jello (raspberry)
-6 cups sugar
-6 big beets
Peel beets and slice real thin.
In a large pot, mix juice, lemon juice, Sure Jell and Jello. Bring to a boil. Add sugar and bring to a full rolling boil. Boil 3 minutes and pour in glasses.
Beets
-1 lb of beets, washed
-1 cup water
-1 Tbl cornstarch
-1 Tbl sugar (or some other sweetener)
-3/4 tsp salt dash of pepper
-2/3 cup water
-1/4 cup vinegar (I used cider)
Try to select beets of the same size. Place in 1.5 quart microwave dish with 1 cup of water. Cook on high until tender, about 15 minutes. Drain beets. Peel beets and slice.
In same dish, add remaining ingredients and stir well. Cook on high for 1.5 minutes. Add sliced beets. Cook for another 5 minutes.
They taste sort of like pickled beets except the sauce is thicker. I think this recipe could be adapted to carrots too. Maybe use pineapple juice for the 2/3 cup water.
Pickled Beets
-12 to 16 small beets
-1/2 cup sugar
-1 1/4 cup vinegar
-1 tablespoon whole pickling spices
Wash beets well; cut off leaves about an inch above beets. Cook in boiling water for about 30 to 40 minutes, or until tender. Cool; rub off skins, trim, and slice. Combine sugar and vinegar in a medium saucepan.